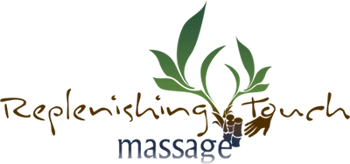 Call 484.441.1456 for an appointment
Important Information for Groupon Customers
Welcome Grouponers!
To enjoy your deal's full promotional value, you must have contacted us on or before November 1, 2012 to schedule your appointment(s). In the unlikely event you'd need to reschedule your appointment, please call 484.441.1456 to provide as much notice as possible (but at least 24 hours in advance to avoid a fee) and understand that with current schedule demands, availability is likely to be 8-20 weeks out. Thank you!

Please see imperative arrival details below. Completing our 2-page intake paperwork will make for for a smoother appointment.
---
Replenishing Touch Massage is an operation with
one massage therapist
dedicated to providing great massages, one client at a time.
Massages are scheduled by appointment only.
Generally, appointment availability is best on weekday mornings.
Directions to our office are here. For those of you arriving with GPS guidance - our address alone IS NOT SUFFICIENT to reach the office. We are at 134 E State St., Media PA 19063 at the corner of State & Edgmont Streets. The office's stair-free entrance is next to Vinnie's Place Restaurant on Edgmont Street. Enter via the side/Edgmont Street door of the only house at the intersection of State & Edgmont Streets (the other corners are a playground, baseball fields, and a 3 story brick office building). Come in through a white storm door (large street number 134E on its glass) and proceed to the right into our office.
Please arrive a few minutes early for your scheduled appointment, but no more than about 15 minutes prior. We do have a waiting room but keep the entrance locked when a massage is underway or if we're not expecting a client for an appointment. We strongly encourage you to print and have completed our intake paperwork (2 pages) before you arrive. Please bring it along with your printed Groupon (or the deal accessible on your mobile device).
Our site has good information about what to expect if you're not already well exposed to therapeutic massage. Even if you are, please take a look at our information about cupping so you'll be ready should we opt to incorporate cupping into your treatment.
---
Thank you for your interest in Replenishing Touch Massage! In over six years of operation, this deal through Groupon is the first, and probably sole, time we've offered such a promotion for new clients. We feel you'll agree when you come in for your massage that our regular fees are well worth the services rendered, and we appreciate the opportunity to contribute to your wellness.